We like drink champagne during nights out so, when we came across this particular bottle, we decided it was time to try to drink it in a little different way!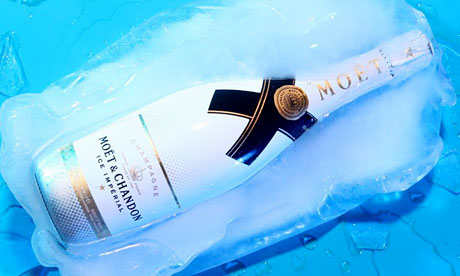 Bringing its legendary touch of glamour and success to Summer 2012, Moët and Chandon presents Moët Ice Impérial, the new must-have champagne for daytime gatherings. The world's first-ever champagne specifically created to be enjoyed on ice, Moët Ice Impérial is a refreshing take on summer style.
Moët Ice Impérial's crisp freshness and powerful tropical fruit aromas are the embodiment of summer, an instant escape to warm and exotic locales around the world. Moët Ice Impérial is served in large cabernet-style glasses with ice cubes that enhance the freshness experience, and can be personalized according to taste preferences with garnishes including mint leaves, a slice of cucumber, or white grapefruit zest. Packaged in luxurious white lacquered bottles with a black tie, gold label and silver design that revamp industry conventions, Moët Ice Impérial exemplifies the House's elegance and pioneering nature.
Moët and Chandon's innovation continues with Moët Ice Impérial's digital applications, inviting
champagne lovers to make a stylish escape online. Accessed by a QR code on the sleek Moët Ice Impérial bottle, the mobile application includes the Moët Ice application that transforms mobile phone pictures with a series of stylish photo filters, and then uses the photos to create a personalized summer music video, with the option to share online. The
application also includes the 2012 season trailer, a 'hotspots locator' to find Moët Ice Impérial
at chic and trendy hotspot destinations around the world, and connects directly to the Moët Ice Impérial Facebook page,
www.facebook.com/moeticeimperial,
and
www.moet.com.
We hope to try it soon..maybe on a beach club!!
XOXO
Marci&Cami